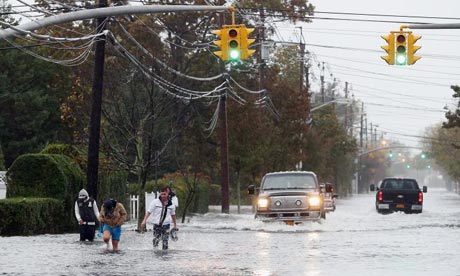 During 2012, there were 11 extreme weather and climate events in the US that reached the billion-dollar threshold in losses, according to figures released by the National Oceanic and Atmospheric Administration (NOAA) on Thursday. While the total number of billion-dollar natural disasters is down from 2011, when there were a record 14 events costing more than $60bn, the economic losses this year are expected to exceed last year's tab, largely due to the massive economic toll caused by hurricane Sandy and the widespread drought.




Some cost estimates for hurricane Sandy alone have approached $100bn, and the drought is likely to be nearly, if not more, expensive.


The 11 billion-dollar events of 2012 include seven severe thunderstorm outbreaks, two hurricanes, the drought and wildfires. NOAA put the death toll from these events at 349.

According to two NOAA climatologists, the ongoing drought, which still encompasses more than half of the lower 48 states, is the most extensive drought event since the dust bowl of the 1930s. The dust bowl droughts were more intense, however, and lasted longer than the current drought has so far.

Global warming is influencing certain types of extreme weather and climate events, especially heatwaves, wildfires, and extreme precipitation events. Studies have shown, that global warming increases the odds of extreme heat events.